White Chocolate Macadamia Cookie Monster
: This vanilla flavored cupcake is baked to perfection with a white chocolate macadamia cooking inside and on top! Balanced with a delightful vanilla frosting, this cupcake is a winner!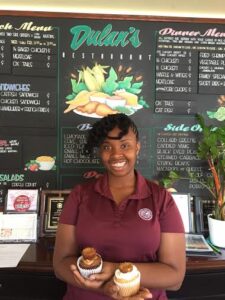 Nylah Davis launched Nylah's Fat Thighz Cupcakes in 2013 to support an opportunity that she was presented with to study abroad throughout nine European countries. She wasn't sure how to fund her trip, but instead of giving up on her dream, Nylah used her passion for baking to raise the money she needed. With over 15,000 cupcakes sold, and her Europe trip over, NFTC has over 30 flavors and counting!