Red Velvet Cheesecake Cupcake
A savory red velvet cake filled with the creamiest cheesecake. Then topped with cream cheese icing and crushed gram crackers.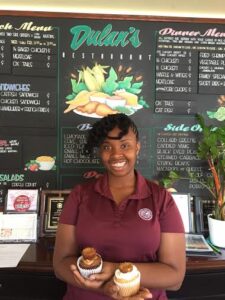 Nylah Davis launched Nylah's Fat Thighz Cupcakes in 2013 to support an opportunity that she was presented with to study abroad throughout nine European countries. She wasn't sure how to fund her trip, but instead of giving up on her dream, Nylah used her passion for baking to raise the money she needed. With over 15,000 cupcakes sold, and her Europe trip over, NFTC has over 30 flavors and counting!